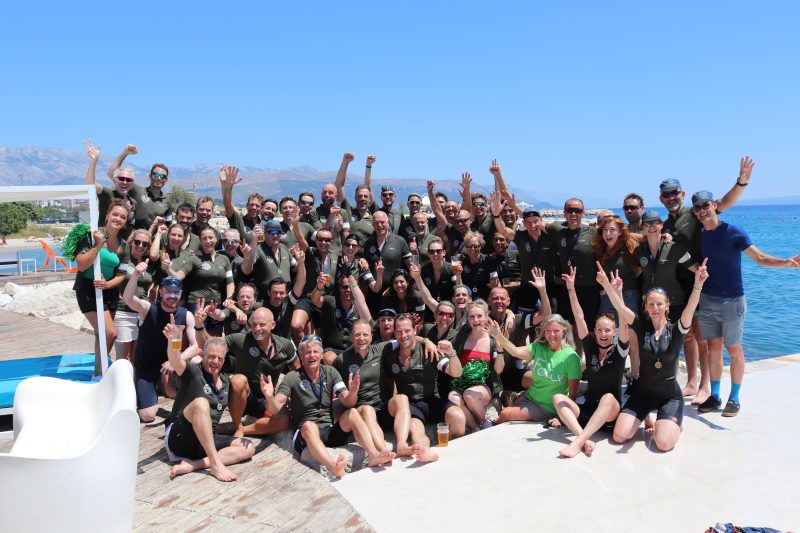 From 26th June to 1st July, 53 cyclists peddled over 500 km through Croatia, from Zagreb to Split during a heat wave. Felix volunteers and staff, Caroline Beard, Stephen Clayton, Hannah Richards, Marcus Roberts and Mary Powys were among the cyclists who took part in the mammoth adventure that was organised by long-standing supporters, Quintessentially Foundation. So far, they have raised over £300,000 net for The Felix Project! Special recognition goes to Quintessentially founder, Ben Elliot, for personally raising over £120k (for the second year) and to our very own Marcus Roberts who raised a whopping £38k.
Two cyclists from our corporate partners were part of the team. They were Dora Kiss from ING and Paul de Croos from Bank of London and the Middle East who fundraised for months and put in a champion effort in Croatia. We're so grateful to all the cyclists who took part, and their supporters. It was a gruelling and event and a huge achievement, as you'll see from Dora's brilliant account below.
"I'm pleased to say that we did it!!! Collectively, during 4 days we cycled about 32,000 km, which is nearly as long as the Equator – in temperatures of over 36 degrees and in the afternoons we had occasions when we rode in 42-46 degrees due to the heat reflecting off the tarmac. I must say it was a difficult challenge, even for the most experienced cyclists! The heat really got to me by the 3rd morning. I never experienced anything like it! I felt totally drunk without having had a drop of alcohol for more than a week. The team doc said it was the first signs of a heat stroke. So, I must say I'm extremely pleased that I managed to finish the ride in one piece, feeling reasonably ok, just tired from the intensity of it.
I firmly believe that this was a very worthwhile challenge for the right cause. Our target was to raise money to fund the evening shifts of The Felix Project for the next 3 years. This is a very important service that the charity provides. They collect all the surplus food from lunch places all over London and provide it to the charities in need on the very same day! I'm sure you can all relate to the importance of this, as you must have seen hundreds of bin bags at the end of each day on the streets of the City, most of which is food waste, that is still perfectly edible. So please, if you haven't yet donated, please consider to do so via my fundraising page https://uk.virginmoneygiving.com/DoraKiss_ING_FelixProject"
Here is a short summary of the 4 days!
Day 1 - Distance: 157 km (97.6 miles), elevation gain: 1,675 m, route profile: https://ridewithgps.com/routes/29232168 , for Strava fans: https://www.strava.com/activities/2484990380
The very first challenge of the trip was that we had to leave Zagreb promptly at 5 am due to the extreme heat wave that was rolling in during the day. You can imagine, when 53 sleepy cyclists turn up in the quite lobby of a peaceful Zagreb hotel at 4 in the morning just to get on their bikes to beat the heat and start eating the miles of the upcoming monster ride. The day was pretty challenging with 157 km ahead of us in extreme heat, however, the atmosphere was amazing as we all rolled out of Zagreb together to then start climbing the mountains.
For most of the day I rode with the amazing new friend I made, Caroline, who was massively patient and explained a few tricks and tips along the way, which genuinely made my upcoming days easier. Unfortunately, we had a horrific accident early during the day, one of the loveliest cyclists broke his collar bone (and his carbon frame in half!), due to taking a turn too fast at about 80 km/h! I think this reminded all of us for the rest of the trip that we are really vulnerable as cyclists, only protected by a helmet and nothing else.
Fortunately, there were no major accidents following this. Everybody was alert and on their best behaviours. I really had to take it easy during the day as I didn't want risking busting my knee the very first day and rolled into the accommodation after 8 hours in the saddle and I really couldn't believe what I achieved! It was an incredibly uplifting experience!
Day 2 - Distance: 168 km (104.4 miles), elevation gain: 1,700 m, route profile: https://ridewithgps.com/routes/29232205 , for Strava fans: https://www.strava.com/activities/2484990380
On day two we were in the breakfast room again at 5 am and most people were out on the road in 20 minutes. Somehow my body was only road ready at 6 am and I was so extremely lucky with having Hamish with me for the whole day, who is a super experienced cyclist and was extremely helpful with getting through the day. The afternoon again reached extremely high temperatures on the road. We were literally baking on our bikes. We also had a terrifying descent from a huge mountain with massive wind gusts, where many times I felt that I was going to be blown off the mountain. Luckily this didn't happen 😊 The day was long again, with around 8 hours in the saddle, having completed 157 km.
Day 3 - Distance: 114 km (70.8 miles), elevation gain 870 m, route profile: https://ridewithgps.com/routes/29232248, for Strava fans: https://www.strava.com/activities/2484990380
After breakfast I really really felt ill as if I was drunk. Heavy headed, slurred speech, feeling slow. The doc said I had early signs of heat stroke and advised to keep hydrated with the electrolyte drinks as much as I could and also to skip the first 30 km of the ride, to help my body recover a bit. This did the trick and I was on my bike for the next two sections, around 52 km and then again advised to take a ride in one of the support vans to the finish line due to the heavy traffic going towards the coast and extremely high winds. I think it was the right decision. This gave me some time to further recover and to be ready for the final day.
Day 4 - Distance: 100.7 km (62.6 miles), elevation gain: 1,250 m, route profile: https://ridewithgps.com/routes/29232368 , for Strava fans: https://www.strava.com/activities/2492101289
Today was the shortest day, only 100 km to go, I think everyone was relieved not having to go longer than that. The heat was relentless, already well into the late twenties when we set off at 7:30. We were all determined to finish the day as quickly as possible. It was nice to ride closer together with the other cyclists for the day. We all rolled to the beach of Split early afternoon with the unbelievable realisation that we did it!
I would like to extend my special thanks to Caroline, Rob, Hamish, Tom, Guy, Natasha, Chloe and of course Natalie and Anton for being there for me and helping me get on the road and get through this amazing challenge that I will remember forever!
If you are look to do some volunteering, please consider supporting The Felix Project, as a driver, a co-driver, a cyclist or a walker to collect and deliver food to charities in London or a warehouse assistant to organise and pack food so you can experience first-hand what this amazing organisation is all about.
Volunteers: click here to register your interest