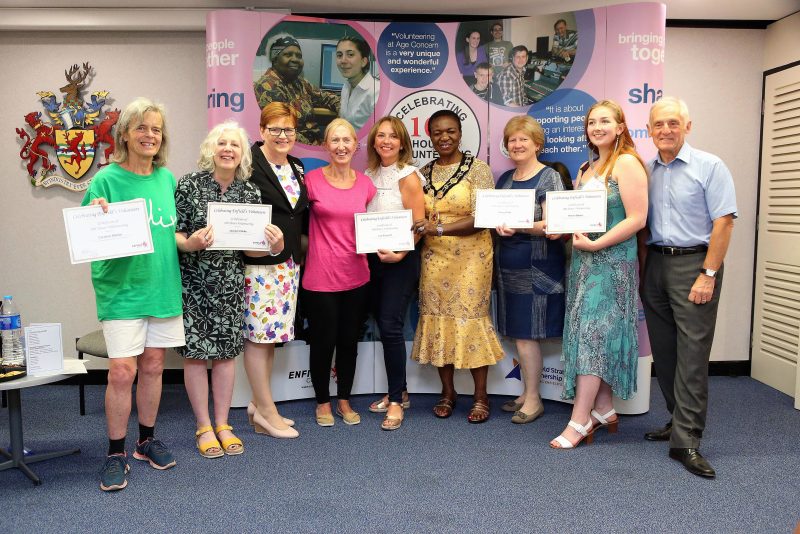 In July, 30 incredible volunteers based at The Felix Project's North London depot in Enfield received 100 hours volunteering awards from Enfield Council.
Lisa, pictured here in the centre of the group, has been volunteering at the Enfield depot since it opened and was one of the volunteers whose contributions were recognised by Enfield Council.
"I've always loved everything about food. My mum was a fantastic home cook, so I get my love of cooking from her. I enjoy researching recipes, planning menus, shopping for the ingredients, putting the radio on in the kitchen and creating meals for the people I love.
"When I took voluntary redundancy from my full-time job, I started to think about how I could get involved in the food industry. Sadly, my dream role of being Jamie Oliver's personal assistant was already taken…
"I'd read about The Felix Project and was horrified by the amount of perfectly good food being disposed of by supermarkets. I wanted to do something to help, so signed up for an induction and did my first shift as a co-driver the following week.
"I loved volunteering from that first session. The Felix Project staff made us feel so welcome and valued. Meeting the other volunteers (or vollies for short!) was great fun, working alongside people from all walks of life and backgrounds but with whom you share a common goal; to give something back and help people achieve one of the most basic human rights – access to food.
"It sounds like a bit of a cliché, but there's a real sense of family at Enfield. Turning up for a shift always starts with a smile and a warm welcome from Sam, Damien and Paul – and if you're lucky, even a hug from Sam. Then it's through to the warehouse to see who's in that day. There will be at least a few vollies I already know, so a quick chat about families and holidays, then introductions to new volunteers, or just some who you haven't yet crossed paths with yet. Next, it's onto loading up the van with all the lovely produce we receive from our suppliers and contributors.
"Heading out on a delivery route is the best part. The people we are delivering to are always so pleased to see us, whether it's a charity or a school. We often get asked to stay for a cuppa but we usually have to politely decline and press on to our next stop. I enjoy chatting with my co-driver and finding out about them, their life and why they volunteer. I never thought I'd be driving a white van around the streets of North London, but I absolutely love it!
"Hearing that some of us had been nominated to receive an award for volunteering for 100 hours was a special moment. None of us do it for the recognition, and to be honest, one of the things I like about The Felix Project is that whether you volunteer for 1 hour or 100 hours, all volunteers are treated equally.
"The award ceremony was a great chance to chat to some of the other vollies over a cup of tea, and then clap and cheer each other as our names were called and we went up to receive our certificates from the Mayor of Enfield, Councillor Kate Anolue and Ann Cable, MBE, the Representative Deputy Lieutenant for the London Borough of Enfield. It felt really special and I am just so proud to be representing such a fantastic charity."
If you'd like to sign up and volunteer in Enfield please click HERE to register and the team will be in touch.