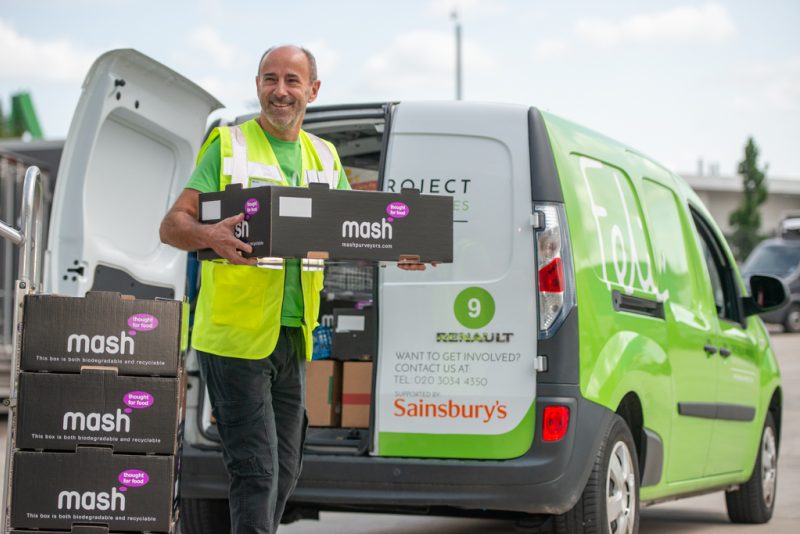 At The Felix Project, we're all about stopping food waste and getting good food to people who need it. We deliver healthy, nutritious food to charities, primary schools and holiday programmes across London, which in turn reduces the environmental impact of good quality produce needlessly going to landfill or anaerobic digestion.
Electric vans reduce carbon emissions
Our simple, effective food redistribution model is expanding, and as we grow, we seek ways to minimise our carbon footprint. A generous donation of electric vans from Renault UK enabled us to switch from diesel to zero emission vehicles for our Central London fleet. As a result, we've increased the volume of food that we deliver whilst reducing our carbon emissions and saving us money in the process.
Renault staff find volunteering very rewarding
As well as the donations of electric vans, Renault UK corporate volunteers are also generous with the time they spend with us collecting, sorting and delivering food.
"Volunteering for The Felix Project is a fun and different way to help a charitable cause and do my bit for the community," says Rebecca who volunteers as a co-driver. "Signing up and getting involved is so easy and I'd strongly recommend it to anyone who's looking for a way to do some good!"
Elior, who volunteers as a driver agrees "Driving around London is a lot of fun and much easier than you'd expect. It's great to see how much happiness the charity brings to the shelters and charities that they help when we deliver the food."
"Our staff have found working with The Felix Project very rewarding," says Steve Wilson, head of light commercial vehicles at Renault Pro+.
"It has highlighted the extent of food wastage in the capital, and they have seen the benefits of redistributing healthy food to vulnerable people."
How you can support The Felix Project
It's wonderful when companies get involved with our work. To find out more about how to become a corporate supporter, please contact [email protected]
More information about Renault UK's partnership with The Felix Project