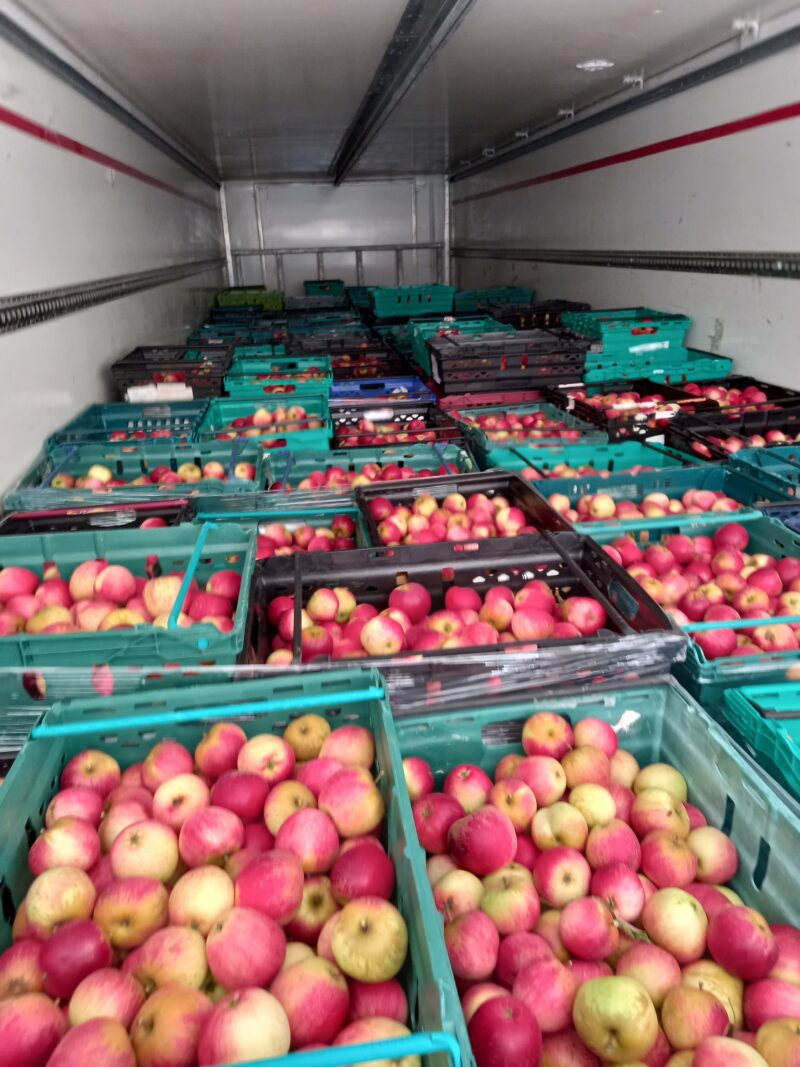 A London charity is set to rescue hundreds of tonnes of organic fruit from going to waste, thanks to a farmer kindly donating his entire orchard for free.
The Felix Project is working at HE Hall and Son in Marden, Kent. Teams of volunteers will be picking apples and pears throughout September and October. The fruit, that would otherwise have been left to rot, will instead be donated to community organisations and schools across the capital.
The orchard is owned by Peter Hall and last year his fruit crop ended up losing him tens of thousands of pounds. Peter explains more: "So many fruit growers, both organic and conventional, are facing a perfect economic storm. Production, picking, storage and distribution costs have risen out of all proportion to what retail customers are prepared to pay for the fruit. When available, imported produce can often be brought in for less and retailers drive to maintain their own margins and deliver customer value has rendered my business in its current form uneconomic."
Peter continues: "I could not bear to see this season's fantastic crop simply drop on the ground and rot so I invited The Felix Project to harvest what they could and use it to feed those struggling during these difficult times. By great good fortune, we have grown one of the best crops both in terms of quantity and quality for years and hope that this will be the start of a long and fruitful relationship with Felix."
In August, the London based The Felix Project rescued 2,124 kg of plums from the farm, the equivalent of 5,057 meals. The team are now picking up to three tonnes of tree ripened Worcester eating apples every day, that is the equivalent to more than 7000 meals, and it is expected that there will be between 15 to18 tonnes in total.
The Felix team will then move onto the pear crop - it is anticipated that there could be as much as 150 tonnes to pick if the weather is kind.
Richard Smith, Head of Food Supply at The Felix Project said: "We are thrilled with how much fruit we have already saved and the quality, size and flavour of the produce is amazing. We know many people are struggling to afford the basics, especially fruit and vegetables at the moment. Having access to farms like this means we have an incredible supply and can ensure we can get as much fresh and delicious produce to the people that need it the most."
Every day around 30 volunteers, many of whom are from large corporates, have been spending their day picking the fruit. The apple picking began on Monday and so far around 15 tonnes have been sent out to community groups and schools, one example is St Pauls Primary in Whitechapel. Darren Rubin is the Executive Head there and said: "The apples went down really well with the parents and it's fantastic to know they are homegrown and organic. They are perfect for our families –so many children love to eat apples and they make a great healthy snack for parents to give quickly and easily – we are looking forward to getting plenty more!"
Picking the apples not only means people will actually get to eat the fruit, it also benefits the health of the orchard itself. Leaving the fruit to drop and rot negatively impacts the soil and the trees and means fewer apples the following year. Peter is planning on inviting the charity back in 2024 and quite probably for years to come.
The Felix Project has worked with farms in the past, each year heading out to rescue thousands of tonnes of food, from apples and pears to potatoes and leeks. This is the first time the charity has been given an entire orchard and would love to do more projects like this. If you are can help please contact Food Supply Team on 20 3034 4350 or email [email protected]