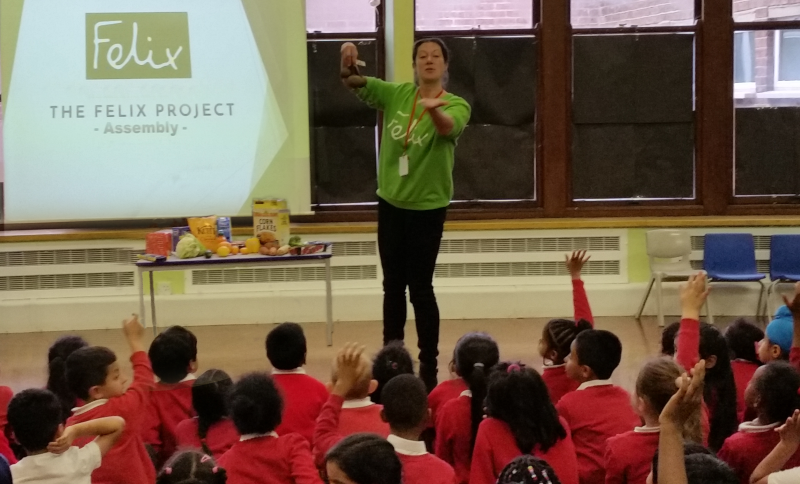 By John Richardson

Last week I joined Anne Elkins, The Felix Project's Schools Programme Manager, when she went along to give an assembly at Dormers Wells Infant School, which is part of The Felix Project's Schools Programme.
From the outset, Anne's very interactive assembly captivated the children. When she asked questions, both fun and serious, lots of hands shot up! Pupils tried to identify different vegetables (it's not fair how much a courgette really does look like a cucumber!), gave their own examples of when food might be wasted, and talked about things they can do to make sure it isn't. It's wonderful to hear 'share it' as a popular answer!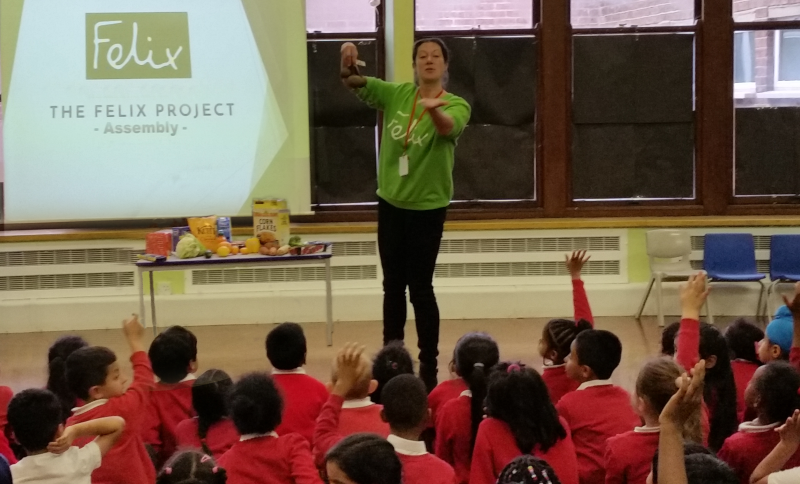 The children learn that just because a potato is an unusual shape, or a tin has a dent in it, it can still be used. We explain the difference between Best Before and Use By dates, so they know that 'Best Before' is an indicator of quality, but food that has passed its 'Use By' date may be unsafe. We also talk about what happens to food if we don't eat it; there is always a great reaction when pupils learn than food can be turned in to electricity. Even the teachers were fascinated!

Ultimately, if food is sent to landfill, the gases that are emitted contribute to climate change. The message at the end of the assembly is that another way to help stop food being wasted is to keep on taking food home from the weekly Felix Project Market Stall in the school grounds. By taking food home from the market stall, pupils are actually helping to save their planet!
At the end of the assembly, the Head Teacher mentioned that the talk fitted so well into the school's curriculum, as the children were currently learning all about food poverty and waste, and big environmental challenges such as climate change. Every week, The Felix Project delivers food to 35 primary schools in London, where pupils and their families choose food from market stalls to take home and enjoy with their families. It helps reduce food waste, helps reduce climate change and it helps the family food budget too.
This blog is by John Richardson, a Volunteer and Trustee at The Felix Project, who accompanied the Schools Programme Manager, Anne Elkins, to an assembly at Dormers Wells Infant School.