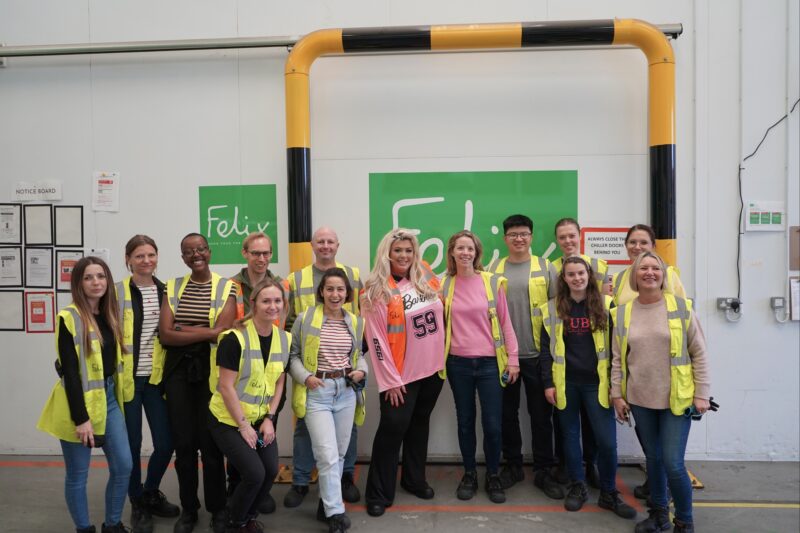 TV star Gemma Collins said she was appalled to find out how many people in London are struggling with hunger, following a visit to The Felix Project, London's largest food redistribution charity.

Gemma spent the afternoon visiting The Felix Project – a London charity that saves perfectly edible food from being wasted and gives it to over 1,000 charities and schools across the capital that support those experiencing food insecurity. She said: "It's very serious – I could not believe it was around 1.2 million people in just London that are affected. It makes me so cross, my blood boils to know that there are so many people going home who cannot afford to have a meal every night and what is even more disgusting is that 300,000 children are going to bed hungry – how is that OK?"
Gemma was shown around their Poplar depot in East London. The charity has four depots in total and in 2022 prevented over 12,500 tonnes of good food from going in the bin – they gave out the equivalent of 29 million meals.
Gemma was impressed by the scale and the types of food that were being saved. She said: "Its great to see so much healthy wholesome food, I recently started growing my own vegetables, it's really hard, it takes a lot of time and resources. I would hate to see what I grew end up being thrown away – so it's fantastic to see it being put to such great use here, especially now I know how many people cannot afford to buy it in the shops."
She added, "I know the cost of living crisis is making things worse and for those on low incomes it must be impossible, I am really worried about how they cope with everything costing so much more!"
The former The Only Way Is Essex star visited Felix's Kitchen, where up to 5,000 pre-cooked meals are produced every day. Gemma said:" The cooked meals, the whole kitchen was an amazing operation, everything looked and smelled delicious, and I love how they are all cooked with compassion. I know there are so many people out there who cannot afford to buy food and as we go into winter - when bills are so much higher – being given a meal like this is really important."
Charlotte Hill OBE is The Felix Project CEO and said: "We are delighted to have welcomed Gemma into our depot and shown her the work we are doing to help those facing food insecurity in London. Support like hers is imperative in raising awareness and ensuring we can be there for not only those incredible organisations we currently work with, but also start supporting the 650 new organisations on our waiting list."
Following the depot tour, Gemma went out on a delivery. Every day a fleet of 45 Felix vehicles delivers food to a huge range of organisations from food banks and pantries to homeless shelters and women's refuges. Gemma helped unload a delivery at a project in Tower Hamlets.
The Family Action food club runs out of Manorfield Primary School every Thursday. It is one of 6 food clubs across in the borough that get food from The Felix Project. Tower Hamlets is the third most deprived borough in the country and the club has over 100 members, the mainly families with children at the school. Matthew Dennis, from Family Action said: "We know these food clubs are critical for so many families in the area, they give people chance to meet others, feel less alone, and to find out a bit more about additional support that is available to them where they live. Manorfield opened in January 2021 and in that time has distributed almost 4,000 food boxes to its members, saving them so much money. "
Gemma said it was great to see the wide variety of food being given to them by The Felix Project adding: "These are quality items as well as lots of healthy and nutritious food, which I know is so important – especially for kids who need a balanced diet. It has been amazing to see the work The Felix Project does and how much it is needed by places like Family Action and all the other organisations doing good work to keep people fed."