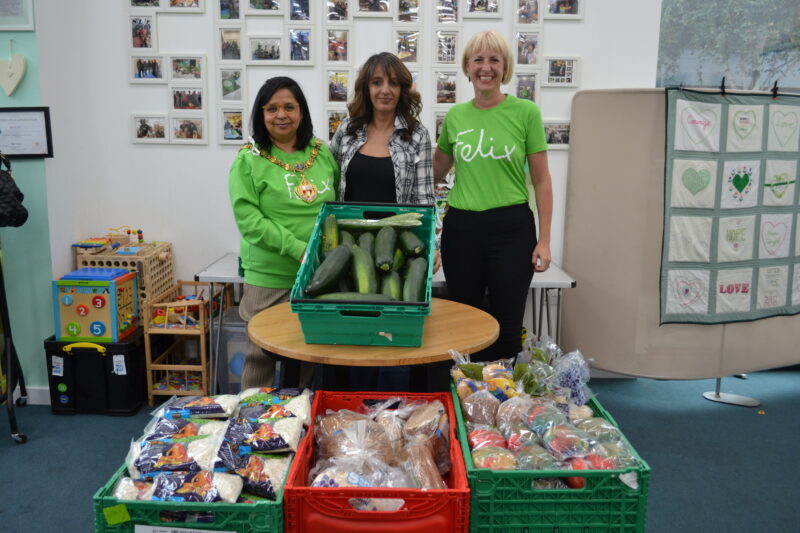 New Mayor of Kensington and Chelsea, Cllr Preety Hudd, has kick started her charity partnership with The Felix Project by visiting one of the many organisations the food charity supports.
The Mayor spent the afternoon at 214 Space in North Kensington with Charlotte Hill, CEO of The Felix Project and Samia Badani, Founder of 214.
Cllr Hudd was appointed as the new Mayor of Kensington and Chelsea at the end of May and chose The Felix Project as her Mayoral Charity for the year. The London based charity rescues good food, that would otherwise go to waste, and distributes it to around 1,000 community organisation and schools across every London borough. In Kensington and Chelsea, 29 charities and schools receive surplus food. This is the first time the Mayor has been to see the work in action and hopes over the year she can visit many more.
Cllr Hudd said: It is a great honour to have been elected Mayor of the Royal Borough of Kensington and Chelsea. I have chosen The Felix Project as my Mayoral charity for this year. This charity is very close to my heart as it was founded in memory of my godson Felix. I am very proud of all that the charity has achieved and I am hoping to help them further their objectives and raise their profile within the Royal Borough.
I recently had the pleasure to visit 214 Space, a charity whose foodbank is supplied by The Felix Project, and was able to see at first hand the positive impact The Felix Project is having in the Royal Borough.
As well as visits to local organisations that The Felix Charity supports, the Mayor is hoping to hold a number of fundraising activities including a carol concert, a fundraising dinner and a final charity event next April.