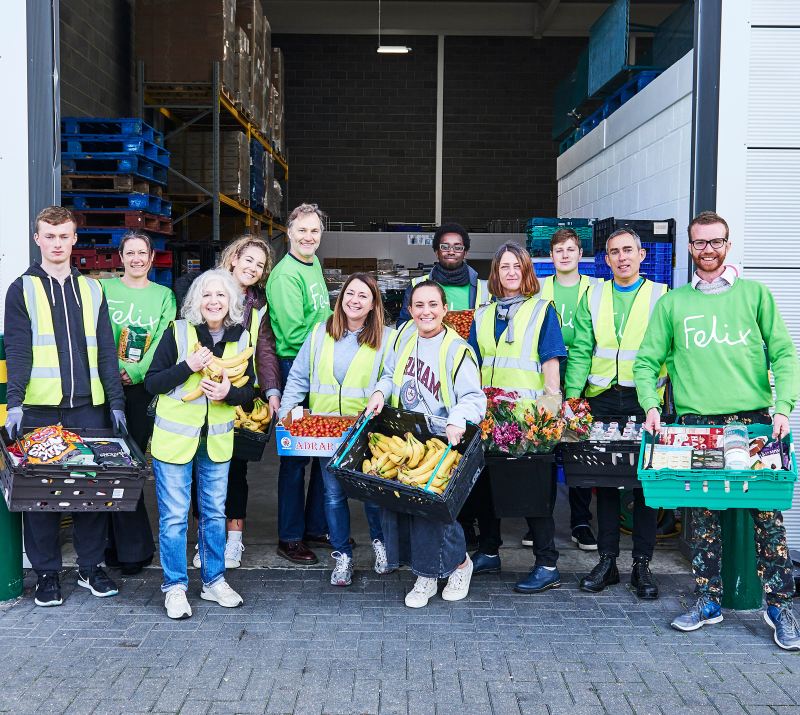 Thousands of struggling households will have access to tonnes of Christmas food saved from landfill thanks to new community fridges and freezers being funded by a perfectly chilled partnership between The Felix Project and The Prince of Wales's Charitable Fund, established by His Majesty The King in 1979.
A one-million-pound starting fund, which includes a substantial personal donation from His Majesty The King, has been put together and will be used to supply fridges and freezers to hundreds of charities in London and the rest of the UK, enabling them to rescue and store more fresh and frozen food. The hope is that more businesses and charitable trusts will then donate to the fund, ensuring more organisations can benefit.
The Felix Project, London's largest food redistribution charity, will take the lead on identifying organisations in London that will benefit from the white goods, and will partner with The Trussell Trust, FareShare and the British Asian Trust who will do the same across the UK.
The current cost of living crisis is resulting in foodbanks, pantries and social supermarkets seeing unprecedented levels of need. Inflation and high fuel costs are leaving thousands of people struggling to afford the basics. It is those on the lowest incomes that are being most affected, and the situation is expected to get worse.
With falling food donations alongside higher demand, foodbanks are buckling under the pressure. A surprisingly low number currently have adequate fridges and freezers, and therefore have to turn away certain food. However, if more charities had freezers, more food could be saved and not sent to landfill, something which is especially important at this time of year.
Charlotte Hill OBE, CEO of The Felix Project explains: "At Christmas we see a huge increase in surplus donations, yet unfortunately in previous years we have had to turn down tens of thousands of kilograms of food. We knew freezing the food would be a good solution. Now thanks to this incredible donation from His Majesty The King, and a range of funders, we will not only be able to freeze and store vast quantities of food, we will be protected when food supplies are low due to seasonal dips, and we can create a long-lasting infrastructure for our community partners that will help people for many years to come."
Baroness Louise Casey, a Trustee of PWCF who, with partner charities, helped spearhead this initiative added: "The need for food banks is a cause of huge national concern, but too many people would go hungry without them. Their rise in numbers across the UK before, during and after the pandemic was already a big worry and now the cost of living crisis has led to more real and enduring hardship for too many families, pensioners, and others. This action will mean many more foodbanks and charities across the UK will be able to store more fresh food and reduce the tragedy of food waste in the winter months ahead. This is the right thing to do for those in need, the sustainable environment, and especially at this time of year when so many citizens want to offer their help."
The initiative will also leave a huge environmental legacy, with food production being responsible for around a third of the planet's greenhouse gas emissions. By throwing it away it we are wasting all the resources that go into growing, processing, packaging and transporting food. Additionally, once in landfill, food produces methane, a powerful greenhouse gas which contributes to rising global temperatures. It is therefore vital more is done to reduce food waste and ensure edible food goes to those that need it and not into landfill.
Sarian Karim is the founder of Keep the Drums and Lose the Knife, a partner charity that provides community food and is based in Southwark in South London. It will be getting a freezer in the next few months and Sarian said:
"Every day we hear heart-breaking stories from our recipients about how they cannot afford to eat and are skipping meals. They rely on the food we give, but we want to help more and to do that we need more food. We are beyond excited to be receiving this freezer. It will be incredible and mean we can store more and do more for those in need."
We are grateful to all the collaborating partners, including Nisbets and Business In The Community for their support of this important initiative.