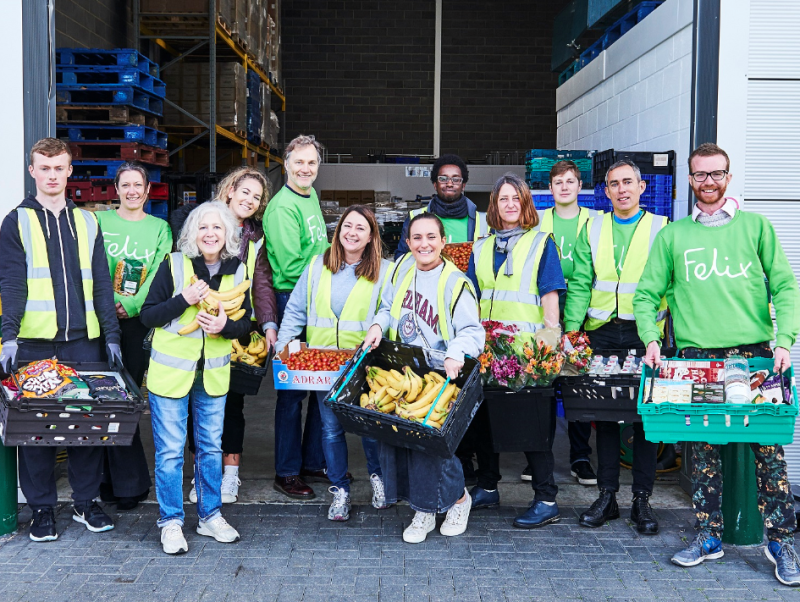 Twenty-five young people will receive training with The Felix Project, thanks to funding from People's Postcode Trust, a grant-giving trust funded entirely by players of People's Postcode Lottery. The grant of £19,984 will be used to recruit volunteers and provide skills-based training in food redistribution operations including health and safety, collecting and delivering food, and sorting food in warehouses.
Training for 25 young volunteers
The Felix Project rescues good, nutritious food that cannot be sold and would otherwise go to waste and deliver it to charities and primary schools across London. The award of £19,984 was funded entirely by support from players of People's Postcode Lottery and will support training for 25 volunteers who are over 16 and who are not in education, employment or training (NEET).
Strengthening the volunteer base
Recruitment of young people will enable The Felix Project to better represent the diversity of communities across London and strengthen their volunteer base, which includes people who are retired, students, and people in full-time and part-time jobs.
Mark Curtin, CEO of The Felix Project said, "Volunteers are at the heart of The Felix Project's work to stop good food from being wasted and get it to charities that tackle hunger. We're very grateful for the support from players of People's Postcode Lottery, which will help us recruit more young volunteers who've been out of work for a while. Through training and work experience we'll help them to build their CVs in a rewarding and fun environment.
Volunteering builds transferable skills
"The long-term benefits for the new volunteers and for The Felix Project are significant. Volunteering with us will build transferable skills at the start of their career and help build confidence, improve well-being and develop emotional resilience. There's the double benefit that boosting our volunteer numbers will help us collect more food from suppliers and deliver to more charity partners."
People's Postcode Trust's funding will allow us to recruit volunteers to do 1-2 shifts a week over a 5-8 month period, working in roles that develop experience in depot operations, logistics and health and safety. They will join a team of over 400 volunteers who help rescue and redistribute enough food to make over 6.5 million meals a year.
Getting involved
Organisations working with young people who would benefit from volunteering and skills-based training should contact Holly Kalra, [email protected].