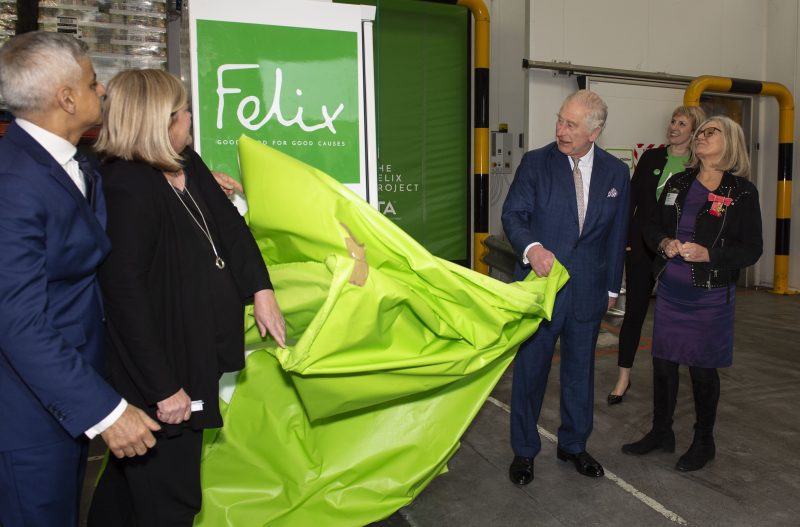 During a visit to The Felix Project, a charity distributing food to London's hungry, The King was told how demand for their service is currently outstripping resources.
This morning The Felix Project welcomed King Charles III to their East London depot, which is supported by global financial services firm Morgan Stanley. His Majesty visited the facility to learn more about how the charity fights food poverty and food waste. The Felix Project rescues surplus food and redistributes it to over 1,000 community groups and schools across London. However, need for their support is growing fast and hundreds of new organisations are currently on the waiting list to receive food.
Justin Byam Shaw, who founded the charity in 2016, explained: "The cost-of-living crisis means increasing numbers of people simply cannot afford to feed their families. Many of the organisations we supply are seeing the demand for their services more than double and all of them need more food from us. We have more than 500 charities and schools on our waiting list, of which 175 applied to us in the last three months alone. The Felix Project has the capacity to meet this demand but we urgently need more financial support and food in order to do so."
His Majesty's support has created new capacity for The Felix Project to rescue and distribute more food by providing freezers and fridges throughout their network. A £1 million fund - which included a donation from the King, The Prince of Wales Charitable Fund and others – is enabling The Felix Project to invest in its own large frozen storage facility and to provide freezers or fridges to 800 community organisations across the UK. The freezers and fridges will extend the life of more food and ensure the charities receiving the food have somewhere to store it.
The charity has been working with British Asian Trust, FareShare UK, the Trussell Trust and catering equipment supplier Nisbets to deliver fridges and freezers across the UK.
One of the recipients is Hackney City Farm. They provide a food hub three days a week and were among the guests at today's event. Rosana Bailey, their Executive Coordinator, said: "We received one of the King's donated fridges in January and it has been incredible to meet His Majesty and thank him for this transformational gift. Before we got it there was nowhere for us to store food and it meant sometimes we had to waste items - fresh food that should be helping those in need. Now, we can store the food and give it out on another day, it has made a huge difference to our service and our community, particularly at a time when the need is so high."
In 2022 the charity rescued more than 12,000 tonnes of high-quality food, which would otherwise have gone to waste and caused damage to the environment.
For more than 50 years, His Majesty has championed sustainability. The Prince of Wales Charitable Foundation regularly supports organisations working to improve the environment. Baroness Louise Casey, a trustee of the fund, was also at the event. She said:
"Food waste is a huge challenge that urgently needs to be addressed, I was appalled to learn that around 10 million tonnes of perfectly good food is wasted every year in the UK. Growing and producing food for our nation takes vast amounts of effort and resources and to throw it away, particularly during these extremely difficult times, is simply unacceptable. It is a pleasure to see the passion with which The Felix Project and partners tackle waste and climate change and get food to people who desperately need it."
HIs Majesty was also shown Felix's Kitchen which uses surplus food to create up to 5,000 cooked meals each day for its partner organisations to distribute to people with limited cooking facilities, providing access to a nutritious hot meal.
Photo by Lucy Young