By Iris Aquilina and Sue Donnelly

On Sunday, 4 March we went along to the Big Half Marathon run in Greenwich. Team Felix was fielding a number of runners and in tandem with their efforts we ran a stall in the Big Tent where we gave out information on the good work of Felix, details of how to volunteer and examples of the food we collect and pass on to charities. As Felix is committed to reducing food waste, we thought it was also a good idea to show people what could be done with foods that are often thrown out. We made a quick and easy parsnip soup on the day which included some past-their-prime parsnips and dessert apples. Sue brought a home made banana bread to give out, which uses the sort of over-ripe bananas which are often thrown out both by retailers and at home. So if you have a few brown skinned bananas at home, try making this delicious recipe
Sue's Banana Bread

Ingredients
(Makes 2 loaves)
480g (17oz) plain flour
4 tsp baking powder
½ tsp bicarbonate of soda
1 tsp salt
1 tsp powdered ginger
2 tsp cinnamon
340g (12oz) butter or margarine
370g (13oz) sugar
4 med-large eggs
4-6 mashed ripe bananas
Optional – walnuts, sultanas, raisins
Method
Preheat oven to 160C/320F/gas 3.
If using dried fruit set aside enough flour to coat.
Cream spices and bicarb into butter. Add sugar. Beat in eggs individually.
Combine salt, baking powder and flour and sift into mixture alternately with mashed bananas.
Add dried fruit and/or walnuts.
Put mixture into 2 loaf tins and cook in centre of oven for 1½ to 2 hours.
Blog by Iris Aquilina and Sue Donnelly, volunteers at The Felix Project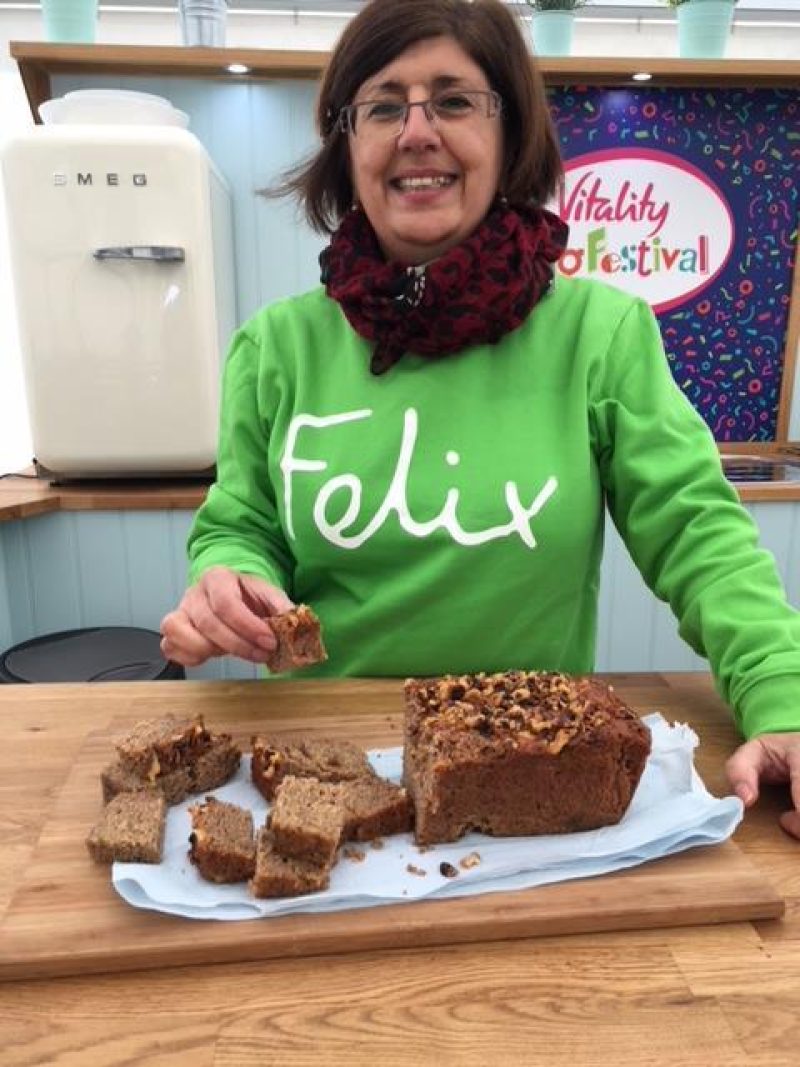 Iris with banana bread at the Big Half