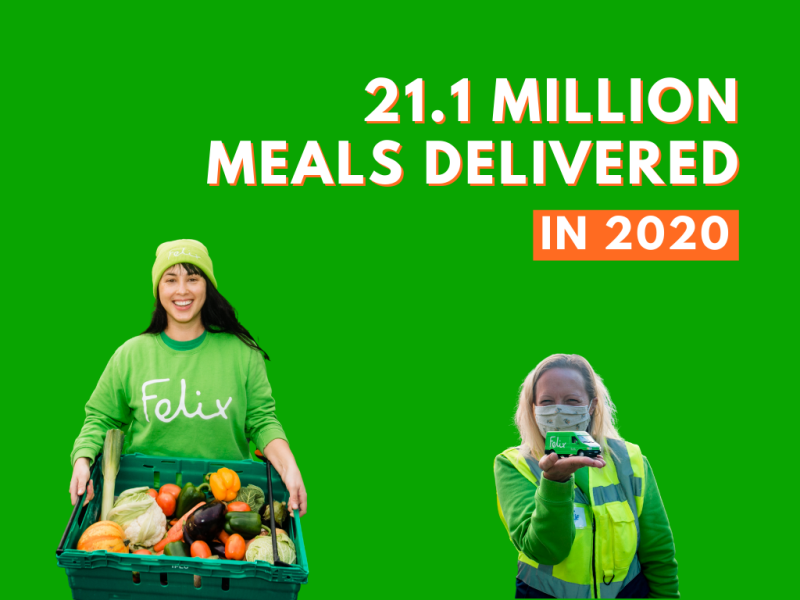 The Felix Project delivered more good food for good causes than ever before in 2020 - jumping from 6.4 million meals delivered in 2019 to the equivalent of 21.1 million meals in 2020.

Faced with a global pandemic and terrible hunger crisis, we increased operations three-fold to help as many people as possible, all while keeping depots, staff and volunteers, safe.
The Felix Project now rescues and delivers enough food for 125,000 meals daily, helping to feed 266,560 Londoners every week.

December alone was a record month in a record year, with our volunteers delivering an incredible 3.1 million meals across the city, completely outdoing the original 2 million meal prediction.
In 2020 we also stopped 41,695 tonnes of greenhouse gases from polluting the planet, by rescuing 8,339 tonnes of surplus food that would otherwise have been wasted. That is equivalent to taking 9,000 cars off the roads for one year.
Looking back, 2020 was a year of huge growth and innovation for our charity. It is the year that we joined forces with National food redistribution charity FareShare, taking over the running of their London food depot in Deptford and saving charities in the South and East of the city thousands of pounds in food fees, where we know there is an urgent need, as well as cementing our reputation as the largest food redistribution charity in London.
It is also the year we formed an emergency alliance to deliver food to London's COVID emergency food hubs, working closely with local councils and boroughs throughout the pandemic. It marks the first time we worked with restaurants like The Ivy, to produce bespoke cooked meals, which we delivered directly to charities and hospitals, including Great Ormond Street Children's Hosptial.

The amount of growth that the Felix Project has experienced this year had not always seemed likely. At the beginning of 2020, we feared we might have to permanently close our doors. Thankfully, we received a surge in support from donors, suppliers, partners and volunteers, making it possible to help more people in London than ever before.
Over one-third of our food helps children and families, whilst almost a third feeds the homeless. The other third goes to vulnerable groups, which in 2020 included the elderly, keyworkers, people on low incomes, carers, people who lost their jobs, refugees and domestic abuse survivors.

The Felix Project have made visual assets with our key 2020 stats available. Simply click the link below to download the assets for Twitter, Instagram and Instagram Stories. We ask that you use the hashtag #HelpFelixFeedLondon when sharing the news on social.