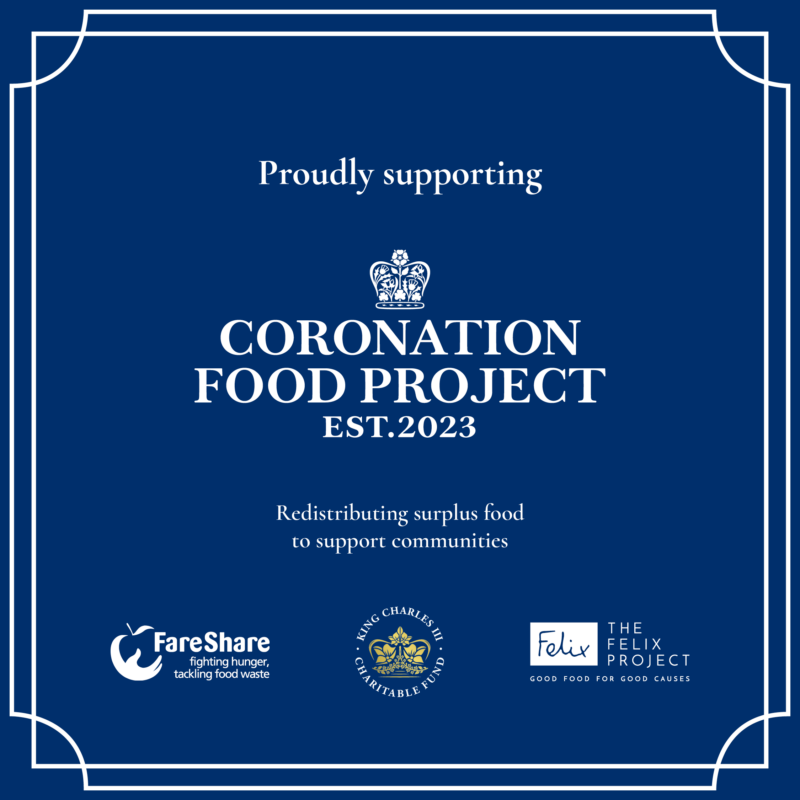 The Felix Project is delighted to celebrate the launch today of the Coronation Food Project – a ground-breaking initiative inspired by His Majesty King Charles III to save and circulate more food and use it for social good.
The launch at surplus food distribution centre SOFEA in Didcot today was timed to coincide with His Majesty's 75th birthday. The King and Queen visited the centre to initiate the project and to meet with staff and volunteers who collect, sort and redistribute surplus food to more than 120 local organisations.
Inspired by The King, the Coronation Food Project aims to create a fairer and more sustainable future by saving more surplus food and supercharging food distribution. It will support food rescue charities, including The Felix Project and FareShare, to enhance and scale the infrastructure necessary to ensure surplus food reaches those most in need, as well as providing grants to the many community organisations working to tackle food waste and food insecurity across the UK.
Being part of this new project will enable The Felix Project to find creative solutions that will supercharge our ability to save more food and feed more people in need.
Charlotte Hill OBE, CEO of The Felix Project, said: "The Coronation Food Project is vital. Without help like this we cannot grow our operations and ensure we have enough food, enough money and enough volunteer power to start taking organisations off our waiting lists and delivering nutritious surplus food to those that need it most. We are so grateful to each and every person supporting our mission to fight food waste and hunger."
The initiative is being led by Baroness Louise Casey and Dame Martina Milburn and coordinated by the King Charles III Charitable Fund.
Baroness Casey said: "Up to 14 million people in the UK are facing food poverty at the same time that millions of tonnes of food go to waste each year. The Coronation Food Project won't solve the issue of food poverty, but we can and must make a difference for communities in such stark need. This work is urgent given the winter and Christmas that so many families will face."
Dame Martina explained how the project will support leading food rescue charities, including FareShare across the UK and The Felix Project in London, to enhance and scale the infrastructure that gets surplus food to where it is needed most. She said: "We need more warehouses, more fridges, freezers and refrigerated lorries. When there is a glut of surplus food, we need ways of keeping it fresh so that it doesn't go to waste. We also want to give a boost to some of the thousands of brilliant local community initiatives that are doing vital work in this area, so the project will include a grants scheme, once we've raised enough funds."
The need to tackle food waste and support those experiencing food insecurity is increasingly urgent. Our recent research found 1 in 4 working parents in London are regularly struggling to afford to feed their families and are having to turn to food support services as a result.
This is putting huge pressure on the system: we have over 630 organisations on our waiting list, while our existing community partners are all asking for further support. We are excited about how the Coronation Food Project will help us respond to these challenges.
The problems this project seeks to address are acute and growing. Whether as donors, volunteers or advocates, we are hugely thankful to all those who support us to tackle them.