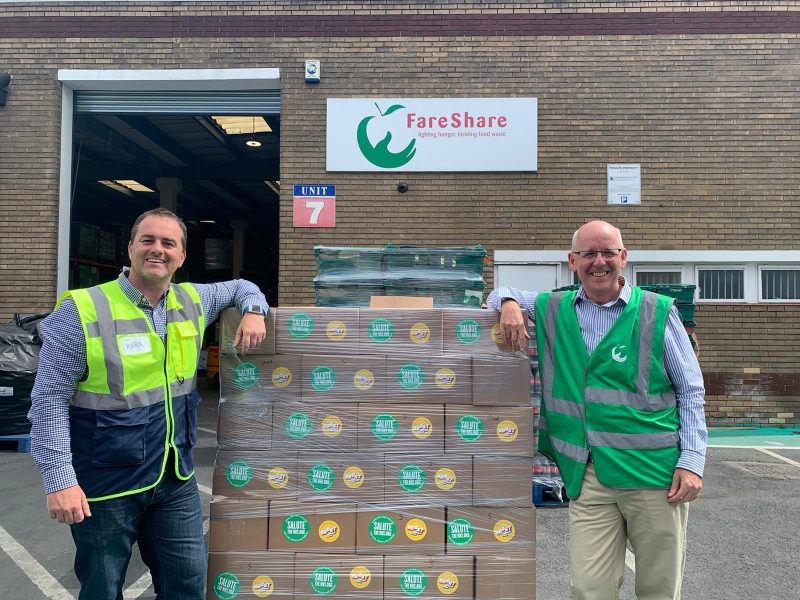 The Felix Project and FareShare have agreed in principle a move that will see Felix take over the running of FareShare's London operation and join the FareShare Network.
In a development that is a strategic fit for both charities, the plan will see London-based Felix Project become the largest last-mile food redistribution charity in the UK, while FareShare will consolidate its dominant position sourcing surplus food from the food industry for redistribution to its UK-wide network partners.
The Felix Project will be the 18th charity to join the FareShare national network. In addition to the food that The Felix Project sources itself, the charity will also benefit from having FareShare as a major food supplier. FareShare will expand its work in accessing surplus food now, to provide the 18 Delivery Partners with large volumes of surplus food for last-mile delivery across the UK.
The two charities aim to have arrangements completed in the autumn when FareShare's Deptford food redistribution centre will become a Felix Project operation. This will add a third depot, in South London, to Felix's existing operations in West and North London and will enable the charity to redistribute food to all London boroughs.
The Felix Project will continue all its existing programmes and to source food independently. The additional depot will enable The Felix Project to accelerate operational growth to meet the rapidly increasing demand for quality surplus food in London.
FareShare and The Felix Project both seek to combat hunger and food waste in the UK, working closely with the food industry, the voluntary sector and regional and national government.
As hunger in London will inevitably rise as a result of job losses and severe economic recession, the arrangement will result in more meals for Londoners in need – including children, families, the homeless, the elderly, survivors of domestic violence and refugees.
In designing the arrangement, The Felix Project and FareShare have been determined to do what is best for London, having successfully worked closely together in response to the COVID19 crisis in the capital. This response has been widely praised by the public, the media and political, business and cultural leaders. Celebrities including Marcus Rashford, Matt le Tissier and James Beattie have supported FareShare, while Phoebe Waller-Bridge, Olivia Coleman, Ellie Goulding, Jack Whitehall, James May and KSI have all volunteered for the Felix Project during this period.

Felix Project CEO, Mark Curtin, said: "This is an exciting, game-changing development for The Felix Project. Having successfully grown to redistribute the equivalent of 7.1 million meals in the first half of 2020, partnering with our friends at FareShare will mean that Felix will be able to continue to grow across the whole of London and get much more food to those communities that need us."
FareShare CEO Lindsay Boswell said: "We are absolutely thrilled that the Felix Project, with their fantastic track record of providing great quality surplus food to vulnerable Londoners, are going to be joining the FareShare network formally as our Delivery Partner for London. Together we will be able to grow our dual impacts of reducing the amount of perfectly good-to-eat food that goes to waste and reduce the burden of hunger for vulnerable communities in London."
ENDS
Notes to Editors
This is not a legal partnership, it is a commitment to work together in the spirit of partnership.
This communication is an announcement of the two organisations intention to work together but will be subject to legal and financial due diligence and contracting between July and the Autumn of 2020.
About FareShare & The Felix Project
FareShare is the UK's largest food redistribution charity, with 25 warehouses across the country. It takes food from the food industry that can't be sold in shops, either because of packaging errors, a short shelf life or overproduction. That food, which is the same as the food you'd eat at home, is then redistributed through a network of 11,000 frontline organisations, across the UK such as homeless hostels, school breakfast clubs, domestic violence refuges, older people's lunch clubs, food banks and hospices. FareShare provides enough food to create almost a million meals for vulnerable people every week.
The Felix Project is an ambitious London-based charity set up in 2016 which has grown exponentially over the past 4 years to become London's leading food redistribution charity. It provides a simple and effective solution to the dual problems of food waste and hunger by delivering good quality surplus food – completely free of charge – to charities and schools serving the most vulnerable. The Felix Project is acting as a front-line service to help those most in need during lockdown, including people in isolation, the elderly, homeless, children & families, survivors of domestic violence, and refugees. This year, The Felix Project has already delivered enough food for 7.1 million meals.
Contacts
Press and media enquiries to [email protected] or to [email protected]