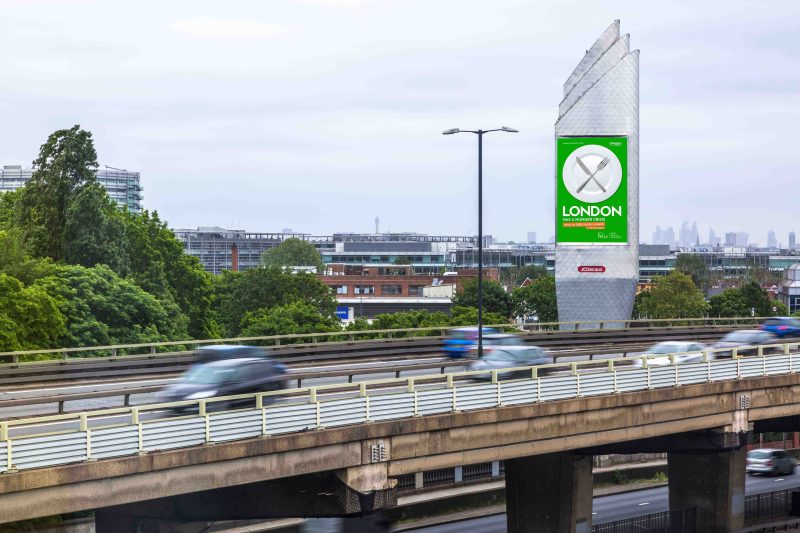 Mon 22 March 2023

The Felix Project has launched their first ever roadside advertising campaign to call attention to rising hunger in London, thanks to the support of advertiser JCDecaux UK and The Maverick Group.
'London has a hunger crisis' posters will transmit from 75 large format roadside screens across London and be seen approximately 4 million times each week as part of the 6 week campaign.
The Felix Project is operating at full capacity and has launched this campaign to highlight the need for more funding, more food, and more volunteers to feed London.
Although The Felix Project already delivers the equivalent of 29M meals to around 1000 community organisations and schools in London, there are more than 530 currently on the waiting list for food. Huge rising demand in London – driven by the cost of living crisis – also means that Felix's current charity partners are all requesting more food.

The campaign is running thanks to the generous support of JCDecaux UK's Community Channel initiative which opens up access to advertising space for charities and non-profit projects. The Maverick Group, The Felix Project's pro-bono creative agency, have also supported the campaign with creative concept and delivery.
Tanya Mitchell, Director of Income Generation and Marketing, says: "We are incredibly thankful to JCDecaux UK's Community Channel for their generous support of The Felix Project and commitment to fight hunger and food waste. We are astounded by the levels of need we are seeing in London, and yet tonnes of good food still goes to waste. This advertising space is crucial to help us get the word out in London about hunger and food waste and critically our need for funds. It will help shine the brightest light on London's hunger crisis."
Chris Dooley, Head of Social Impact at JCDecaux UK, says: "The Community Channel creates real value through the power of the public screen and aims to amplify Out-of-Home role as a force for good in the community. We are proud to be working with The Felix Project raising awareness and engagement around this important message."
James Scrivener, Group Sales & Marketing Director at The Maverick Group, says: "The Maverick Group is proud to support The Felix Project and we were shocked to learn that 1.4 million adults and 400,000 children regularly go hungry in London. The Empty Plate concept was developed to visualize and communicate London's often invisible hunger and has now generated enough funds for almost 2.5 million meals. London has a hunger crisis and we are proud to work with Felix and JCDecaux to get the word out far and wide across London."