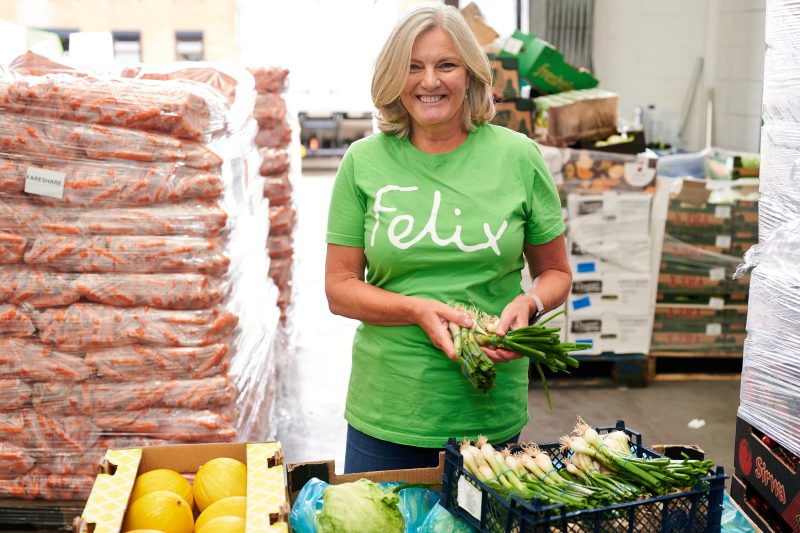 Founded in 2016 by Justin Byam Shaw, in honour of his and Jane's son, Felix Byam Shaw, who died suddenly from meningitis in 2014 aged 14, The Felix Project is now London's largest food redistribution charity. In 2021 the organisation supplied the equivalent of 30 million meals to over 1,000 front-line charities and food hubs for Londoners affected by the COVID crisis.
With the desperate cost of living crisis causing food poverty rates to surge, The Felix Project is delivering 70% more food than in 2020, on track to deliver the equivalent of 40 million meals this year for those who are struggling, including families, children, the homeless and refugees. 750 charities are currently on the waitlist for Felix food. A donation of £5 delivers 22 meals.
Justin Byam Shaw commented:
'This award recognises the huge contribution The Felix Project has made over the past six years in response to the growing hunger crises in this country. Jane has been a critical and leading part of our extraordinary story and we couldn't have achieved what we have without her. On a personal note, I know how much courage and determination Jane has shown to create such overwhelming public good from our family's tragedy.'
Jane Byam Shaw OBE commented:
'It's an absolute privilege to have had the opportunity to play a role in building this wonderful charity where staff and volunteers work so hard every day towards our vision of a London where good food is never wasted and nobody goes hungry. We are needed more than ever now so many more Londoners are struggling to feed themselves and their families.'
Charlotte Hill OBE, CEO of The Felix Project, commented:
'The Felix Project will play our part in the cost-of-living crisis with the same energy as we did the COVID crisis. We are proud to see Jane recognised with this award; Jane is the heart and soul of our project and, together with Justin, has provided inspiring leadership and vision to us all. The charity runs on voluntary support, every penny, every pound will mean we are able to feed more people in need.'
Please feel free to write to [email protected] in case of any media queries.
The Felix Project currently needs volunteers across all locations, as well as vital donations, so we can continue to grow to meet rising demand.

Inspired by Jane's work? Help us ensure no Londoner is left behind.