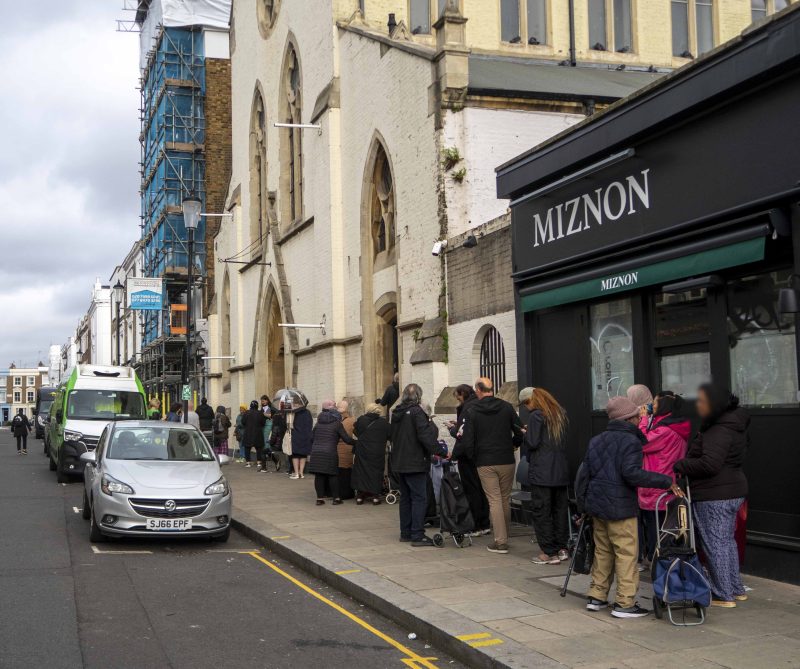 The shocking impact of rising bills on hungry families has been revealed by The Felix Project, as their new survey finds almost 1 in 10 respondents[1] surveyed (9%) have just £2.85 a day to spend on breakfast, lunch and dinner.
London's largest food redistribution surveyed people living in the capital with an annual salary of under £20k and asked how much money they have left for food per week. Results also found:
12% have between £20 and 29.99 a week to spend on food - less than half the average household's weekly food shop - just over £4.28 a day.
Four percent of respondents had £10 at most to spend on food, which is just over £1.40 per day.
Concerningly, two percent had nothing left at all to spend on food
In 2021, the Office of National Statistics found an average household spends £63.30[2] per week on food, meaning many respondents had less than half of that.
The rising cost of bills is leading more low-income Londoners to cut back on food, putting even more pressure on organisations like food banks and community kitchens who are stepping in to feed people. The Felix Project delivers fresh surplus food to community groups in every London borough. North Kensington Community Kitchen is one of them, they get an average of over 800 kilograms of food delivered each week.
Melanie runs the service, she says: "We help over 1,000 people each week and rely so much on the food we get from The Felix Project, we would not be able to help so many people without it. It's shocking how many people – in one of the richest boroughs in London, who simply cannot afford to feed themselves."
Kate[3], a mum of three, is one of their beneficiaries. She says:
"I work part-time so making ends meet is a real struggle, I only have around £30 to £40 a week to feed myself and my children, which does not stretch very far. I found the North Kensington Community Kitchen during covid, when I lost my job, I do not know what I would have done without them, they have been lifesavers. Getting by is very stressful, there have been times when I have cried thinking about how I will
manage to pay my rent, my bills and buy food. I regularly skip meals or only eat once a day to ensure I can feed my children."
Kate is similar to many of the parents we surveyed on low incomes in London[4]. 4 in 10 (41%) of those who answered said they had skipped meals or not bought food for themselves to ensure they had food for their children and almost 1 in 5 (19%) were very worried about being able to afford to feed their child this winter.
The rising cost of cooking was also a problem for those surveyed. 47% of respondents said they were concerned about being able to cover the cost of cooking food, with 17% of those saying they were very concerned.
When asked how those who said they were concerned might overcome the rising costs of gas and electricity, the top three answers among respondents were to only eat one hot meal a day, with 44%, not cook anything that takes too long with 34% and cook more microwave meals getting 30%.[5]
Charlotte Hill, CEO of The Felix Project, says: "Sadly I am not surprised by these results; we know from our community groups that many people are too worried to turn on their ovens and have simply stopped eating hot food. We recently heard from a housing group that told me people are asking if gas supplies to their homes can be switched off, so they are not tempted to use their oven or boiler. The cost-of-living crisis is having a catastrophic impact on people's lives and leaving too many at risk of regularly missing meals."
The Felix Project currently supports over 1,000 charities and just over 160 schools, but the need is growing, every day more groups are asking for supplies. That is why they have launched The Empty Plate Emergency Appeal. It aims to fill millions of empty plates this winter.
Justin Byam-Shaw, Founder of The Felix Project, says; "Londoners who can't afford to buy food, simply can't wait for another new Government to act. The Felix Project stands ready to ramp up our support for struggling Londoners now and that's why we are launching our Empty Plate Emergency Appeal today. We need more money, just £5 will deliver 22 meals to those in real need."
To find out more or donate to the appeal please click here. Text FELIX and your donation amount to 70580.
For press enquires, please contact Charlie Neal
Email: [email protected]
Phone: 07442 613424
Spokespeople and case studies available on request
[1] 348 of the 1513 respondents were parents to children of ages 18 or under in London with an income of under 20k
[2] https://www.ons.gov.uk/peoplepopulationandcommunity/personalandhouseholdfinances/expenditure/bulletins/familyspendingintheuk/april2020tomarch2021
[3] Name has been changed
[4] 348 of the 1513 respondents were parents to children of ages 18 or under in London with an income of under 20k
[5] 717 people answered this question. The full answers were: Use a slow cooker more often- 24%.
Look for other places get a hot meal (e.g. community kitchen, church support services, local café) – 5%, Share cooking responsibilities with other households such as family, neighbours, friends – 6%
I will only eat cold food - 4%