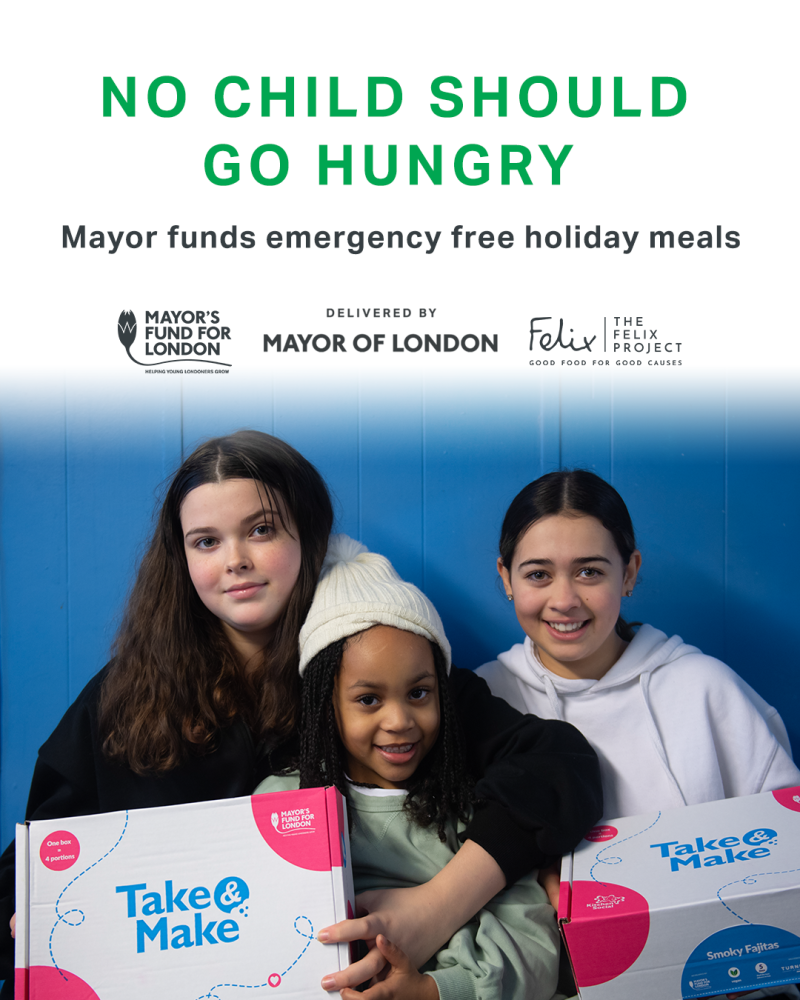 The Felix Project is set to help deliver around 7 million meals to children from low-income families, thanks to support from the Greater London Authority and in partnership with Mayor's Fund for London.
London's largest food charity has been awarded £2 million by the Mayor as part of a wider investment of £3.1 million, designed to help low-income families feed their children during the holidays.
Over the next 12 months, The Felix Project and Mayor's Fund will provide meals during school holidays. The meals will come in a variety of formats from traditional food parcels, to prepared meals and even recipe boxes to encourage families to cook at home.
Charlotte Hill OBE, CEO at The Felix Project said: "We know many parents are struggling to afford to put food on the table and rely on school food banks to top up their weekly shop, alongside free school meals for those who are eligible. When schools are closed families face increased costs and more stress trying to make sure they have enough to feed their children. That is why it is vital food provision continues during school holidays. We are delighted to receive this incredible support from the Mayor of London and be working with The Mayor's Fund for London so we can guarantee to provide this lifeline for the next year. I hope it will help low-income families to reduce the ever-increasing pressure on their budgets."
Additional funding will also help The Felix Project expand its operational capacity over the weekend and deliver an extra 2.5 to 3m meals to hungry Londoners. Over the next year an additional 20 tonnes of food will be delivered on Saturdays.
The extra £425,000 – taking the Mayor's total investment announced today to more than £3.5 million– will not only mean there are new opportunities for volunteering, for those that may have not been able to help during the week, it will also mean some organisations can be taken off the waiting list. The list now has over 600 new organisations waiting for food -showing just how great the need is.
The money is part of The Mayor of London, Sadiq Khan's wider support for low- income Londoners, which also includes:
£130m to provide free school meals to primary school children in London
£80m to help those struggling with the rising cost of living.
Investing £3.46bn into building the genuinely affordable homes
The Mayor of London, Sadiq Khan, said: "The spiralling cost of living is hitting low-income Londoners particularly hard and it's shocking so many people are struggling to put food on their table. I have repeatedly called on the Government to do more to help those in need and support families during the school holidays, but they have not provided the assistance that is urgently needed. That's why I'm stepping in today with a major new emergency funding package that will provide around 10m free holiday meals to hundreds of thousands of Londoners most in need. I'm committed to doing all I can to support Londoners through this cost of living crisis and will continue to urge Ministers to step forward and do the same as we build a more prosperous London for all."
Over 2 million Londoners are living with food insecurity. All the organisation The Felix Project currently supports are crying out for more food and there are over 600 new groups in desperate need of our help - demand is far outstripping supply.
It costs over £10million a year to operate at the current levels, however it is vital the charity increases capacity so it can do more, rescue more surplus food, cut food waste and crucially feed more hungry Londoners.