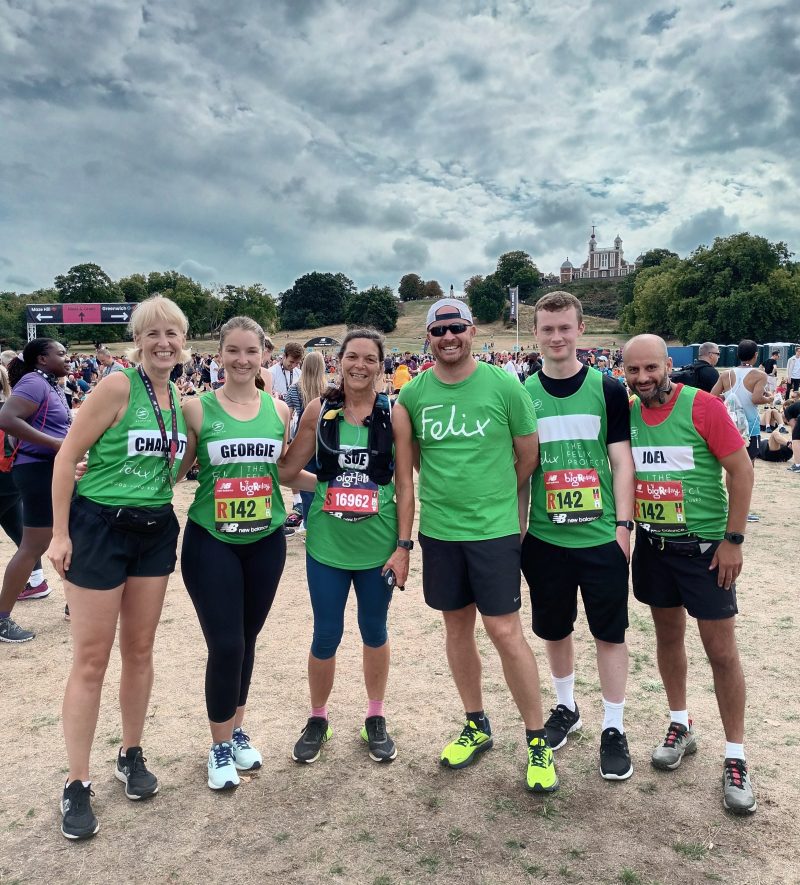 The Felix Project confirms official charity partnership with London's The Big Half community half marathon
50 places available to run as part of Team Felix on Sunday 4 September
East London headteacher urges Londoners to stand against hunger and sign up for this year's The Big Half
Entrants must register by 4th August 2022
A headteacher from East London is encouraging people from across the capital to sign up for this year's The Big Half marathon and take a stand against hunger and food waste in London.
Paul Jackson runs Manorfield Primary in Poplar. He regularly sees children coming into school hungry and knows full well how the current cost of living crisis is only making this issue worse.
Today organisers of The Big Half confirmed it is once again partnering with The Felix Project to try and make a difference. With the escalating crisis causing food poverty rates to surge, The Felix Project is delivering 70% more food than in 2020, on track to deliver the equivalent of 40 million meals this year for those who are struggling, including families, children, the homeless and refugees. 750 charities are currently on the waitlist for Felix food.
One of those beneficiaries is Manorfield Primary. Headteacher Paul says: "It is vital as many people as possible sign up for this event, it is a great way to fight hunger in London and make a difference to the lives of people all over the city. Food poverty is a worsening crisis; at our school around 70% of pupils need some level of support. We are so grateful for the incredible free food deliveries that The Felix Project volunteers make each and every week for our families. I'll be challenging myself to run the half this year and I hope to see you there."
The charity has a total of 50 places available to runners from across London and they must register by 4th August. Charlotte Hill, CEO of The Felix Project said: "We really want to fill all those places, it's so important, especially in the current climate. The cost-of-living crisis is affecting us all, but for those already struggling it is devastating and has left many people and families unable to afford food, rent and bills. We have seen a large increase in demand and it is vital we fundraise to ensure we can help all those that so desperately need it. Having events like this partner with our cause is incredible and we are hugely grateful for the support. If you feel able to take up a place and support our work, please join me in getting your trainers on this summer and help us feed London."
The Felix team aim to raise more than £30,000, enough to provide more than 135,000 meals and stop the retail equivalent of over £165,000 worth of good food from being wasted.
Now in its fifth year, The Big Half features three running events with a distance for everyone - including the flagship half marathon, The Big Half - plus The Big Mile for people of all ages and abilities, and the New Balance Big Relay, which offers participants the opportunity to experience the vibrant half marathon as part of a team, each running 5KM.
The Big Half, which will be live on the BBC on Sunday 4 September, will see more than 14,000 runners start north of the River Thames close to Tower Bridge, head east towards Canary Wharf, loop back and cross Tower Bridge before heading to a finish at the historic Cutty Sark in Greenwich.
Take Action Now
The Felix Project has 50 places available at a discounted rate of £25 per participant for the Big Half and £10 per entrant for the Big Relay (based on a team of four).
The minimum fundraising pledge is £300 for the Big Half and £200 for each entrant of the Big Relay.
Sign up for Team Felix and run The Big Half
https://thefelixproject.org/bi...;
Sign up for Team Felix and run The Big Relay
https://thefelixproject.org/th...;
The deadline to enter is 1600 BST on Thursday 4 August.